WHO WE ARE
We believe that healing and change is possible for anyone
We're about being on the ground, building relationships, listening deeply and co-creating a global sisterhood of women helping other women to embody and realise their full potential.
Our organisation consists of a passionate team of volunteers work with local agencies, clinical services and families in country who provide vocational training, care and rehabilitation support to girls and women that have been impacted by sex slavery. We are committed to fostering sustainable, long term working relationships that enable this important work to continue in our absence.
Through expressive art therapies, awareness based practices such as yoga, meditation, Somatic ExperiencingTM and female empowerment programs, we provide women and girls with the resources to heal themselves and each other.
We're committed to empowering woman and girls globally and believe that healing and change is possible for anyone, regardless of their circumstances. We support all women who have experienced sexual trauma and abuse, to realise their hopes and dreams, heal their bodies and in turn to ripple positive change throughout their communities.
WE ARE GRASSROOTS.
WE ARE COMMITTED TO SUSTAINABILITY.
Art to Healing is committed to building strong, life-long relationships founded on trust, empathy and mutual respect with our partner organisations and the many women and girls we work alongside that have been severely impacted by sex slavery and exploitation.
Art to Healing listens deeply to the stories told by the women and girls we meet and through doing so, we build compassionate, genuine, trusting relationships that enable the care and support we deliver to be greatly successful. We have witnessed remarkable transformation and growth in the girls and women that were once living in shelters and working in the confines of terrifying brothers.
Many of these astonishing women are now counselling other women through their trauma. It is truly magical to see. Many of these women however, who are now leaders in their communities continue to experience debilitating flashbacks, crippling depression, terrifying nightmares and palpable anxiety.
Our task, to ensure that they can continue to provide vital support and care to their peers is to directly provide our leaders with access to ongoing therapy, important tools and resources.
Without guaranteeing the wellbeing of the women who support other women and girls in need, our work couldn't be sustainable. We are therefore focused and strongly committed to providing them with the best and highest quality education, tools and resources.
Witnessing such powerful transformation fuels our commitment to working alongside our outstanding partner organisations to develop and deliver programs that fill important gaps, empower and add tremendous value to the work already underway in local communities.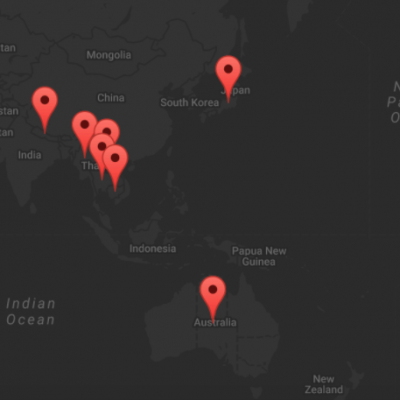 We have had the enormous privilege of working with over 40 different partner organisations and countries globally.
Our work has taken us to:
Laos PDR
Cambodia
Japan
Thailand
Burma
Nepal
India
Australia
Watch Art to Healing CEO and Founding Director, Atira Tan's TED X Talk:
Inspired Action from the Heart.
Meet Our Team
We are run by a small and awesome team of volunteers who put a whole lotta love, passion and commitment into what we do! We believe that change is always possible, and we do what we love, and support each other in doing so.
We hope you'll join us!