HEALING SEXUAL ABUSE WITH SOMATIC EXPERIENCING
The Body is Crucial in Trauma Recovery
Trafficking and commercial sexual exploitation are forms of modern slavery impacting the global community, with a prevalence of female victims in Nepal.
According to the Global Slavery Index, 86% of trafficked individuals are women and children, most of them sold into sexual servitude. Survivors are riddled with deeply engrained social, cultural, and religious stigmas condoning the violence enacted upon them. The healing journey is not easy and mental health support is scarce.
There are only a handful of organisations internationally who focus on mental health and modern slavery. The United Nations (UN) touts trafficking as the third largest international criminal industry, drawing in an estimated US$150 billion in global revenue annually (ILO, 2014). Despite the global issue of human slavery, most anti-trafficking organisations only focuses on practical solutions through talk therapy in their counseling programs, and they lack essential knowledge and training in trauma. Treatment plans are unstructured in many of the anti-trafficking shelters, creating many challenges in the recovery process, including unsuccessful reintegration for the survivors.
Both Lotus Circle International and Art to Healing are dedicated and committed to supporting the trauma recovery of child sex slaves in shelter care. This includes running professional development and capacity building programs, providing clinical supervision, researching and creating trauma informed protocols for shelter rehabilitation for the children and women who are survivors of sex slavery and exploitation.
Addressing the gap of trauma-informed support, Beth Nielsen and Atira Tan, launched the first ever Somatic Experiencing and Counseling Fundamentals one-year program for sex trafficked survivors in 2018.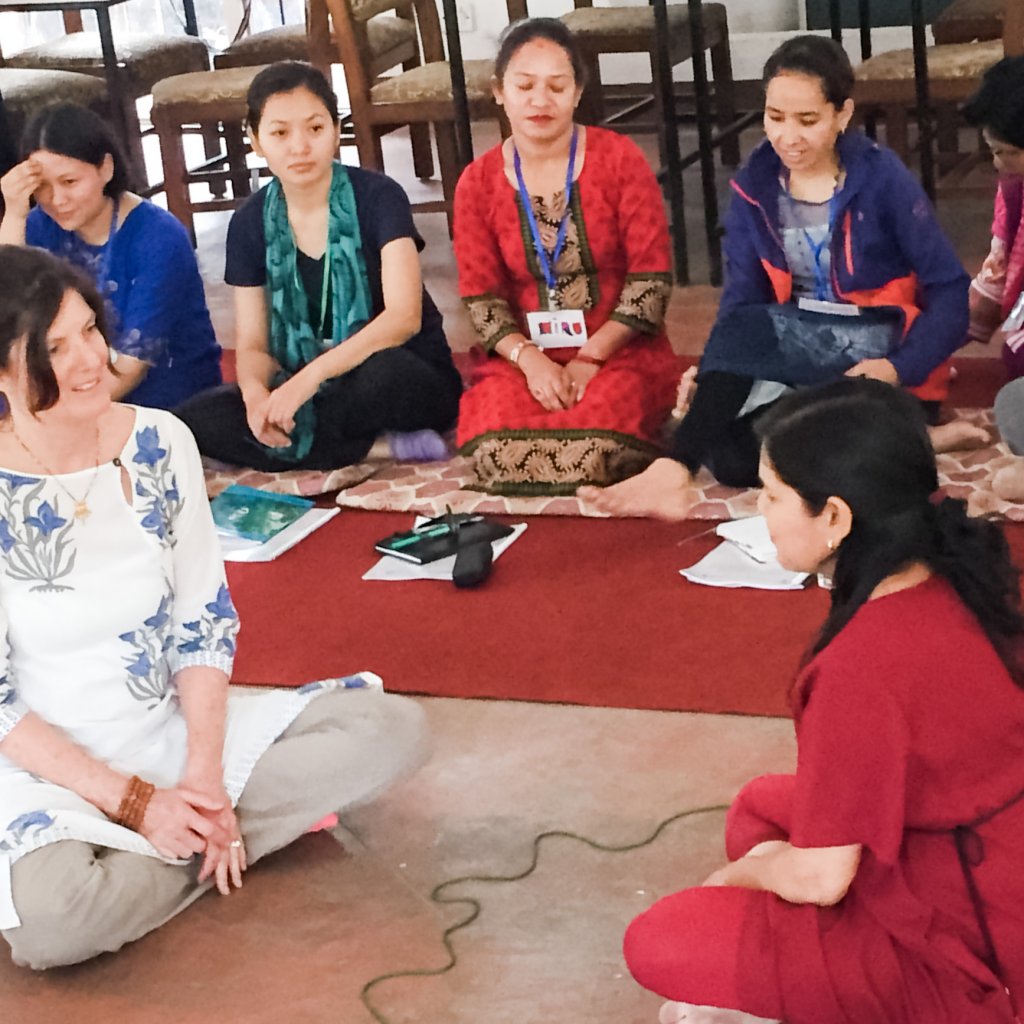 Figure 1: Establishing Boundaries through Somatic Inquiry
The Somatic Experiencing and Counseling fundamentals for Sexual Abuse, Exploitation and Trafficking certificate program in Nepal proved to be a very touching and powerful training. The year-long training is a collaborative effort between Lotus Circle International and Art to Healing. 25 women counselors from 14 anti-sex trafficking NGO's from Kathmandu, Sindulpalchok and Pokhara attend the program. Many participants are organization leaders, psychosocial counselors, and social workers who work closely with survivors of trafficking in shelter homes. 60% are survivors of sex trafficking and commercial sexual exploitation. Most are also survivors of sexual abuse. Endorsed by the Somatic Experiencing Trauma Institute, this is the first ever Somatic Experiencing Program for sexual abuse, exploitation and trafficking.
Our SE program offers a holistic and integrative treatment approach by combining a strong foundation of experiential learning with Somatic Experiencing. In addition, the program also includes education on counseling fundamentals, expressive art therapies, trauma-informed yoga and mindfulness. By the end of the program participants will be able to offer an array of stabilization skills for post- traumatic stress and creatively apply them to sex trafficking survivors of all ages.
The organizations that were represented at the training included CHANGE Nepal, CORD, CHORRI, BISHWAS, Kumudini, CAP Nepal, CHILD NEPAL, Kingdom International, OVB, National Women's Commission, OVB, Tarangini, V.O.C, CPSCC, The Relief Trust, UNATI Foundation, SAATHI, and ASHA Nepal. Our partner organization is Chorri, headed up by Hira Dahal who is our local coordinator.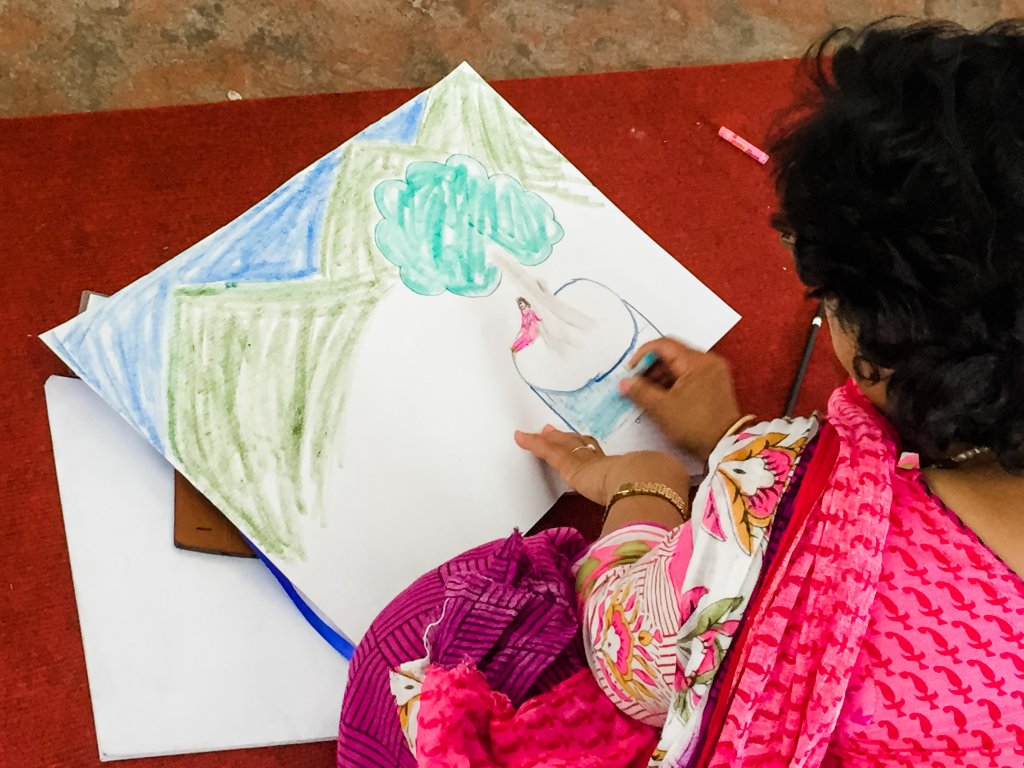 Figure 2: Somatic Informed Art Therapy
The first two modules in November 2018, and June 2019, focused on learning the basic SE concepts necessary for working with survivors in shelter care, many with severe symptoms of post-traumatic stress. Participants had a chance to practice the skills and heal their own trauma with expert support and coaching from our International team of SE assistants and consultants.
Art to Healing's founder Atira Tan, who has offered numerous trauma-informed programs, as well as Art Therapy and Women's Wellness trainings for over a decade in Nepal, has built trusting relationships with many of the participants, beneficiaries and partner organisations. This foundation of trust and safety fostered by Atira, provided the ground work necessary for introducing a dramatically different paradigm based on developing awareness, finding goodness and shifting traumatic patterns rooted in psychophysiology. This paradigm helps workers and organisations by learning to more trauma sensitive and to incorporate more processing at a somatic level.
Because of our participants' busy work schedules, the intensity of their work and their high levels of commitment and dedication, our program had to focus on self-care. We had to initially support them in slowing down and shifting their focus back towards their own process, self-regulation and care, which they found very useful.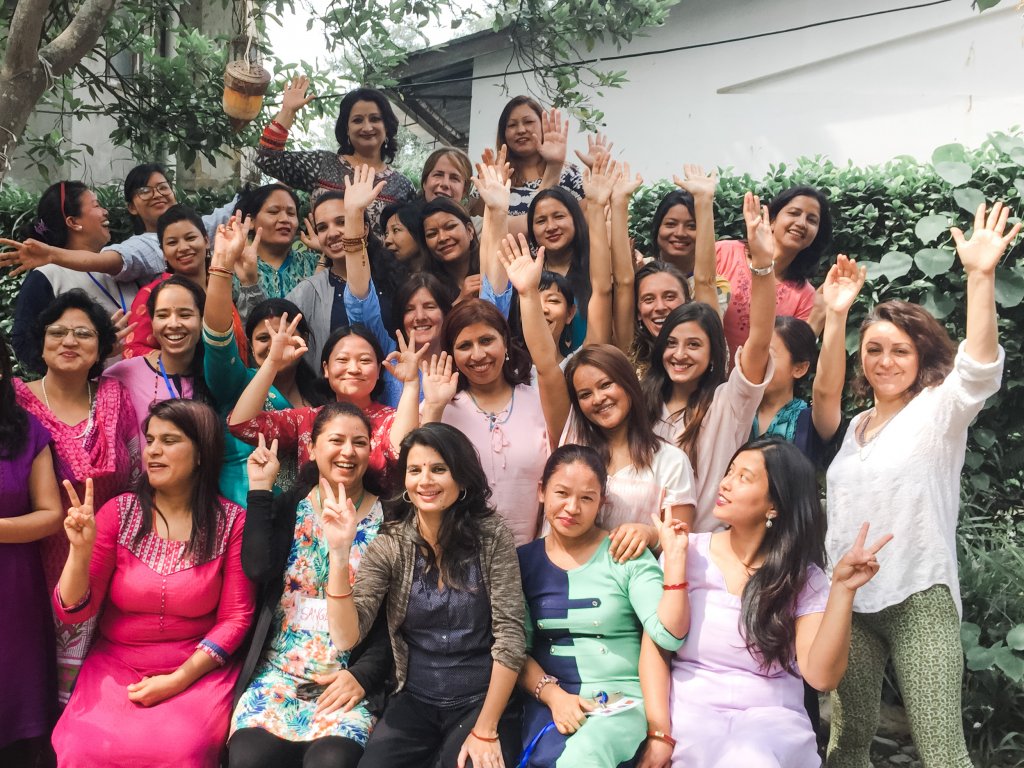 Figure 2: Our Awesome Trainees
A participant, Anuradha Acharya, shares who important this program has been for her in a recent interview:
"This training is really helpful for us as psychosocial counselors not to get secondary trauma from the client. I know because I used to work with clients, but I had to stop because I experienced secondary trauma. I find Somatic Experiencing very useful to save ourselves, to take care of ourselves."
The program includes clinical supervision where we visit the shelters and anti sex-trafficking organizations offering the required group supervision and individual SE sessions necessary for completing the course. We helped them address a variety of issues with clients including suicidal ideation, depression, lack of client motivation, fainting, domestic violence and behavioral issues. In addition, we provided SE personal sessions to help address their own personal trauma and deepen their learning of the SE method in their own bodies.
Our beneficiaries are mostly sex trafficked survivors struggling to make ends meet, and our partner grassroots organisations run on shoestring budgets would never be able to afford tuition for professional development trainings. These 25 participants provide therapeutic support to at least 25 other survivors of sex slavery and exploitation each, creating a sustainable model of recovery which extends to over 600 other survivors of trafficking.
Help us to continue our Somatic Experiencing for Sex Trafficked Survivors Program, by donating to Art to Healing today!
Written by Beth Nielsen, Atira Tan and Tiffany Moore. Copyright 2019 Art to Healing & LCI.
Learn more about our Somatic Experiencing for Sex Trafficked Survivors Program
Learn more about how we use Somatic Experiencing to heal sexual abuse.