When girls and women heal the trauma of abuse,
it empowers them and their communities to
THRIVE,
not just survive.
Art to Healing supports the psychological and emotional recovery of children and women so that they can live a life free from slavery.
We deliver specialised trauma-informed psychological interventions. These include Expressive Art Therapies, Counselling, Somatic Experiencing Ⓡ, yoga and mindfulness programs throughout Asia and Australia.
Art to Healing works at the grassroots level to provide vital education and therapeutic care whilst strengthening local communities.
OUR VISION
To create a compassionate, just world free from sex slavery.
A world where young girls and women are empowered and free to make choices about their future.
We believe that a world free from human slavery can be within reach.
We believe that these women, men, and children deserve another chance at transforming their lives.
And we need your help to make this a reality.
SINCE OUR INCEPTION, WE'VE SUPPORTED
countries across Asia & the Pacific
partnerships with non-government & government organisations to improve psychosocial care.
trainees in trauma-informed educational & capacity building programs.
women and children who have been directly therapeutically supported through Art to Healing.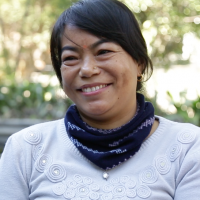 "The women like me who have been trafficked or suffered sexual abuse and also have HIV, the trauma is not just physical but emotional and psychological. I feel so much better after being in this program with Art to Healing, and I want for my friends and other women to experience this as well so they can have hope to live a good life."

- Goma Rai, Shakti Milan Samaj Founding Director, Trafficking Survivor.
HUMAN SLAVERY IS A
150 BILLION DOLLAR INDUSTRY.
The age at which girls across Asia are being sold into sex slavery.
Times per day is how often many women are being forced to have sex
Girls and women are sold into sex slavery every year
THE TRAUMA EXPERIENCED IS UNIMAGINABLE.
Art to Healing is on a mission to change this.
And we want  YOU  to join us.
Healing trauma needs to happen not only on the physical level, but on all levels:
We create
SUPPORTIVE COMMUNITIES
and
SUSTAINABLE RELATIONSHIPS
Support our latest Women's Transformational Program in Nepal:
A reproductive health and art therapy therapeutic program.
Watch Art to Healing CEO and Founding Director, Atira Tan in the TED X Talk: Inspired Action from the Heart, about her work with sex trafficked girls and women in Asia.